8 TIPS FOR ORGANIZING YOUR WARDROBE – 8 TIPS VOOR HET ORGANISEREN VAN JE GARDEROBE
Hoe organiseer je je kledingkast waarmee je elke morgen met de glimlach je garderobe zal openen. Graag geef ik je 8 tips mee waarmee je al aardig op weg kan.
How do you organize your wardrobe whith you will open your wardrobe every morning with a smile. I would like to give you 8 tips that you will certainly facilitate.
1. EMPTY YOUR CLOSET AND ORGANISE EVERY 6 MONTHS
1. ORGANISEER EN SORTEER ELKE 6 MAANDEN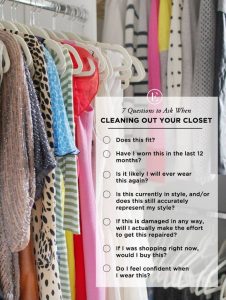 If you haven't worn it in the last 6 months, then be rid of it! You'll feel so much lighter when you've gotten rid of a chunk of clothing that's just taking up space inside

Als je het de afgelopen 6 maanden niet hebt gedragen, doe het weg! Je zult je zoveel lichter voelen als je een kleding stuk hebt weggegooid dat slechts ruimte in neemt.
2. BY SEASON SUMMER AND WINTER
2. VOLGENS SEIZOEN ZOMER EN WINTER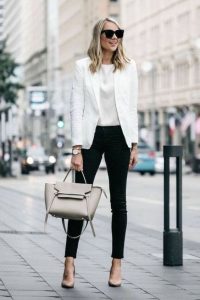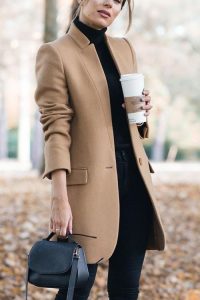 One way to organize your clothes is to go by season, even if you have to switch out blouses and bottoms according to the time of year – bringing them to the front of the pack for easy grabbing. If you don't have the space you can use special clothing boxes.
Een manier om uw kleding te organiseren in je garderobe, is volgens seizoen te gaan, zelfs als je je blouses en bodems moet omschakelen naargelang de tijd van het jaar – zodat u ze gemakkelijk vooraan kunt pakken. Als u niet over de ruimte beschikt, kunt u speciale kleding dozen gebruiken.
3. KLEUR BIJ KLEUR EN LICHT NAAR DONKER
3. COLOR BY COLOR AND FROM LIGHT TO DARK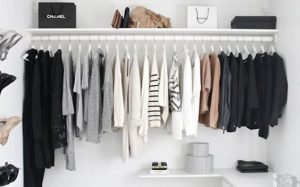 Hang your clothes color by color and from light to dark, so you will find what you are looking for faster and you will be able to make outfits more easily.
Hang je kleding kleur bij kleur en van licht naar donker, zo zul je sneller vinden wat je zoekt en zul je makkelijker outfits kunnen maken.
4. HANG ZOVEEL MOGELIJK OP
4. HANG AS MUCH AS YOU CAN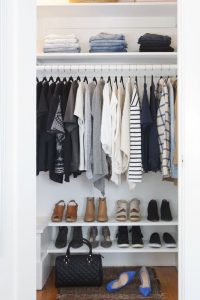 Als je kleding op hangt zul je het sneller terug vinden en alles blijft alles netjes. Hoewel je zoveel mogelijk wilt ophangen, is die regel niet van toepassing op truien. Deze items moeten worden opgevouwen en mooi gelegd worden om hun stoffen niet te beschadigen of hun vormen te verliezen.
If you hang your clothes on, you'll find it faster and everything stays neat. Although you'll want to hang up as much as you can, that rule doesn't include sweaters. These items need to be folded and situated nicely on a sweater as to not damage their fabrics or lose their shapes.
5. USE THE SAME HANGERS AND VELVET HANGERS
5. GEBRUIK DEZELFDE HANGERS EN VELVET HANGERS
Bij gebruik van velvet hangers en allemaal dezelfde zal je kledingkast mooier en overzichtelijker ogen en vooral je kleding zal blijven hangen. Hang je kleding ook altijd in dezelfde richting.
When using velvet hangers and all the same your wardrobe will look more beautiful and clearer, and especially your clothes will stick. Always hang your clothes in the same direction.
6. EACH ITEM WITH ITEM
6. HANG ITEM PER ITEM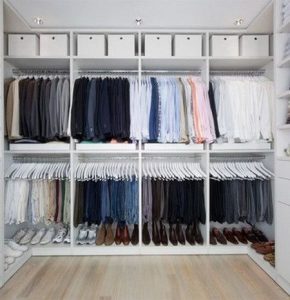 Dresses with dresses, pant with pants, blouses with blouses. If you have 2 different lifestyles for the weekend casual/chic and for business formal seperate it also.
Jurken met jurken, broek met broek, blouses met blouses. Als je 2 verschillende levensstijlen hebt voor het weekend casual / chic en voor zakelijk formeel is het beter om dit ook te scheiden.
7. QUALITY OVER QUANTITY
7. KWALITEIT BOVEN KWANTITEIT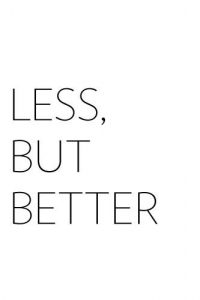 If you have items that are similar, choose the quality pieces. You don't need five blouses of the same style and colors, instead choose one or two that are the best of the best while you purge the rest!
Als je vergelijkbare items hebt, kies je van de beste kwaliteit. Je hebt niet vijf blouses van dezelfde stijl en kleuren nodig, maar kies er twee die het beste van het beste zijn en de rest kan je beter weg gooien.
8. FITTING FOR YOUR BODYTYPE
8. PASVORM VOOR JE BODYTYPE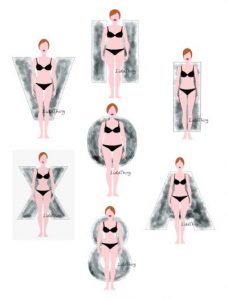 Even if you love the piece and you wear it all the time, truly think about how the blouse, pair of pants or dress may fit you. If it doesn't suit your body, say your goodbyes and kick it out of the closet! That goes double for shoes!
Zelfs als je van het kleding stuk houdt en je het de hele tijd draagt, denk dan echt na over hoe de blouse, broek of jurk je past. Als het niet bij je bodytype past, zeg je het gedag en doe het uit je kast. Dat is dubbel voor schoenen.
Ik wens je veel plezier met je opgeruimde garderobe.
I wish you a lot of pleasure with you cleaned wardrobe.
Your Personal Business Stylist,
Kristel Merckx